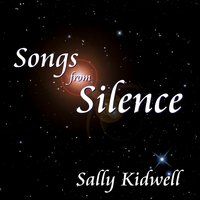 1. Songs from Silence - This is meant to seem a little like an improvisation, maybe after the concert is over. Just a few notes at the piano, a short detour into another key.
2. Years May Go By - I loved him once, but years have crept by. Years of separation. Years of silence. Years of solitude.
3. Fireflies - I think of children trying to catch fireflies in the dark. Then I think of parents and grandparents resting, lost in their own thoughts.
4. She Weeps Over Rahoon - Inspired by the James Joyce poem of the same name. "Rain on Rahoon falls softly, softly falling where my dark lover lies calling at gray moonrise..."
5. Kathy's Waltz - My memory of a young girl-innocent, lovely.
6. Evolution of a Song - First the whisper of a melody, then more rhythm, more passion. finally a return to the source.
7. When I Was Young - Sometimes happy, sometimes troubled, but always dreaming of the joy and love I hoped to find.
8. Rachel, Mary and Akiva - "Rachel weeping for her children and refusing to be comforted, because they are no more." (Jer. 31:15b) Not Rachel alone, but all the mothers and fathers of all nations at war. Akiva is a Hebraic/Aramaic name sometimes meaning "to protect" or "shelter".
9. Celebration - Celebrate life. Celebrate friendship. Be joyful.
10. Flight of Fancy - Let yourself go. Let your mind dance. Even when you're sad, look for a chance to be surprised by beauty.
11. Transit of Venus - Love comes and goes-bittersweet, full of promise, passion and pain. Love with your whole heart, with awe and gratitude.
12. Celtic Lullaby - A simple melody filled with love and a little sadness. It has been said that a mother is always praying for her child, no matter what else she may be doing.
13. Song in the Night - Alone in the night I awaken and I long for you.
14. Prayer Ascending - May the God of all the nations hear our prayers and bless us. Peace. Shalom.
Songs from Silence is now available on CD Baby.